GUIDELINES FOR AN INTEGRATED ENERGY STRATEGY
Helping companies achieve their sustainable energy objectives
An integrated approach to sourcing low-cabon energy and fuel
The main option for companies to source low-carbon electricity is via renewable generation sources, coupled with digital solutions that support their integration into the grid. Companies should coordinate their electricity sourcing strategy globally and tailor it to local markets to take into account local energy regulations, market designs and climate conditions. Your company can collaborate with customers, suppliers and other partners to scale renewable electricity consumption within your company and across your value chain.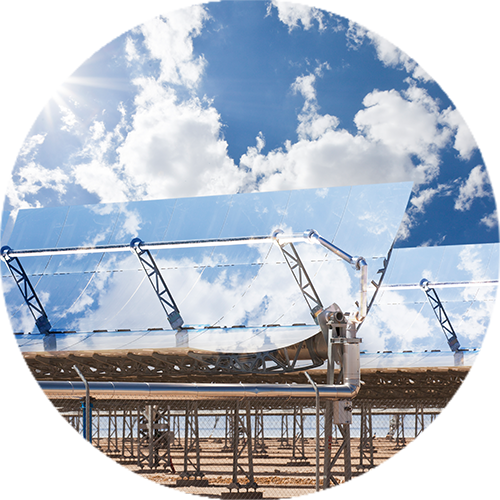 A renewable electricity sourcing strategy will typically consider the following implementation approaches, the availability of which differs between regulated and unregulated electricity markets:
Investing directly in an on-site renewable power asset;For more information on each of these approaches, see "An introduction to corporate sourcing of renewable electricity", published by

RE-Source

.
Investing directly in an off-site renewable power asset;
Purchasing renewable power from an on-site or near-site project with a behind-the-meter power purchase agreement (PPA);
Purchasing renewable power from an off-site project with a corporate PPA;
Participating in renewable energy communities as an investor and/or consumer;
Procuring power on renewable or "green" energy tariffs;
Purchasing unbundled energy attribute certificates, such as Guarantees of Origin or International Renewable Energy Certificates.
An ambitious strategy should prioritize direct investment in renewable energy assets or procuring renewable power through corporate PPAs. These approaches have the highest potential to protect against price volatility, contribute to additional renewable power capacity on the grid and provide reputational benefits. However, they also bring risks and complexities with them. It is important for companies to understand the options available to them, assess those against their business objectives and set their electricity sourcing strategies accordingly.
Examples of how a company can take an integrated approach to sourcing low-carbon electricity

PPA with several energy buyers through a consortium or joint tenancy structure
In a consortium, corporate buyers can aggregate their demand to enter a larger contract that optimizes electricity prices and improves creditworthiness. There is a particular opportunity here for large companies to support their suppliers – who may be too small to obtain a competitive price by themselves – by creating a consortium. A joint tenancy structure typically involves one larger corporate buyer that is off-taking a large percentage of a project's electricity generation, known as the anchor tenant. The developer then needs corporate buyers with a low power demand to off-take the remaining generation and may be open to more flexible terms or shorter contract length.
PPA through a reseller
In this approach one corporate buyer with the contract for the whole electricity off-take resells to other corporate buyers. All secondary corporate buyers may have less potential to negotiate the terms of the contract; however, they may equally face fewer administrative tasks and there may be potential to enter shorter contracts.
Direct equity investment in an off-site project with partners
A group of power consumers invest together in an off-site renewable power asset and off-take some or all the power generated through a PPA contract. This is beneficial when individual energy users do not have sufficient capital to invest.
Peer-to-peer electricity trading with distributed energy resources
This is a transparent mechanism for electricity consumers that generate power for their own consumption and sell excess generation directly to other consumers. This approach enables these prosumers (consumers that also generate electricity) to balance their preferences and requirements by giving them control over their energy resources and the transactions they participate in. In some markets, a community of local end-users that have agreed to jointly develop renewable projects can also sell this electricity.
Renewable electricity tariff negotiation
When companies are considering electrifying their heat loads, and thereby substantially increasing their power consumption, they can potentially negotiate renewable electricity tariff reductions with their utility provider to improve the return on investment for the electrification business case.
The benefits of collaborating to source low-carbon electricity

Improved access to low-carbon electricity
Sourcing electricity collaboratively allows companies to access PPAs that they might not be able to access individually if they lack sufficient energy demand for a particular asset size or are less creditworthy.
Collaborative investment in renewable generation assets can reduce the capital requirements for individual entities and therefore improve access to renewable sources. Transaction costs also diminish, in relative terms, as deal sizes increase, allowing for the passing of cost reductions on to corporate off-takers.
Collaborative sourcing through consortiums, or energy communities, can provide greater flexibility in terms of the type and length of contracts.
Economics
Merging demand for renewable electricity via a consortium achieves economies of scale and gives companies more purchasing power to obtain favorable electricity prices.
Collaborative sourcing and investment reduce risk exposure for individual entities as multiple companies share the risk.
Companies engaged in selling excess electricity and peer trading can open up new revenue streams.