GUIDELINES FOR AN INTEGRATED ENERGY STRATEGY
Helping companies achieve their sustainable energy objectives
An integrated approach to sourcing low-cabon energy and fuel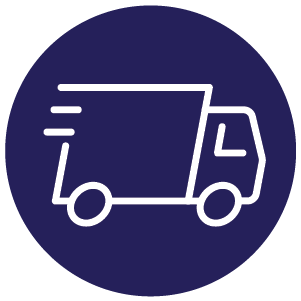 The transport sector is going through a fundamental transformation to achieve clean, safe, accessible and efficient mobility. To transport their goods and employees using low-carbon and sustainable energy sources, companies need to adopt a whole system approach that considers the type of energy source used and mode of transport alongside the location of the site and the physical and digital characteristics of infrastructure operated by the company.
Companies with mobility requirements (i.e. companies outside of the transport sector) can collaborate with their value chain partners to use sustainable energy sources for passenger and freight mobility. The following examples consider energy used in transportation assets owned/leased and operated by the company (i.e. Scope 1 and 2 emissions) as well as commuter travel, business travel and outsourced freight solutions by third-party providers (Scope 3 emissions). The options for low-carbon transport solutions include:
Shifting to electric vehicles for passenger transport, light duty last mile freight applications, short-haul transportation of people and materials on industrial sites, campuses, etc.;
Shifting business travel in owned/leased vehicles to mass transit systems, such as buses and rail;
Contracting low-carbon freight solutions, such as ships and aircraft fueled by sustainable fuels;
Adopting digitalized solutions that maximize operational efficiency, such as optimizing delivery routes and sharing assets to ensure that companies use freight vehicles to their fullest capacity;
Companies owning and/or operating truck fleets switching to lower carbon fuels for long distance road transport and in the longer-term using zero-emission fuels or zero-carbon/electric motor technologies.
Examples of how a company can take an integrated approach to sourcing low-carbon energy for transport

Collaborating cross-functionally within a company to understand transport requirements
Companies need to work cross-functionally to holistically understand passenger and freight transport needs and collectively agree on requirements for infrastructure, fuels and power. Companies can also enable the uptake of new technologies via working with infrastructure suppliers, for example through installing EV charging infrastructure.
Shifting mobility behavior by offering employees accessible, connected and low-carbon transport alternatives
Communication channels between companies and their employees are vital to capturing employees' mobility needs and implementing fit-for-purpose solutions. Companies can provide solutions by subsidizing public transport passes and ensuring that employees can meet the last mile journey with micro-mobility or active mobility options, such as bicycles. Companies can also provide secure bike parking to incentivize employees to cycle.
Sharing vehicle charging infrastructure
Companies can work with charging point providers to install charging infrastructure at company sites and generate additional revenue by allowing others to use it. Enabling EV roaming by working with a vehicle charging payment service will allow the company's suppliers and customers to benefit from the charging infrastructure and hence increase its use.
Improving the emission transparency of transport providers
Companies can collectively request that transport providers, such as airlines or freight companies, accurately report on the carbon intensity of journeys. This will improve understanding of the emissions intensity of different providers and routes and drive demand to lower carbon options. To better compare carbon footprints across different modes of goods transport, companies can encourage their suppliers to use the Smart Freight Centre's Global Logistics Emissions Council (GLEC) Framework to evaluate their emissions footprint.
Selecting freight and logistics suppliers based on low-carbon criteria
Companies can apply low-carbon assessment criteria to evaluate suppliers based on their reported emissions, as well as their GHG reduction strategy and their capacity to identify and implement innovative solutions to reduce emissions. The Smart Freight Procurement (SFP) Guidelines (WBCSD and the Smart Freight Centre) provide an action-based guide to reducing GHG emissions and air pollutants from freight transport and logistics procurement practices. Companies can also provide logistics suppliers with incentives for low-carbon behaviors, such as discounts and/or longer contracts.
Supporting sustainable aviation fuel uptake
Companies can partner with airlines, airports or fuel producers to pay today's additional cost of sustainable aviation fuels and offset their business travel emissions accordingly.
Purchasing sustainable fuels for owned/ operated fleets
Companies can develop off-take agreements with sustainable fuel developers or companies that generate by-products for use as fuel, such as cooking oil, to help secure longer term supply and encourage further investment.
Adopting digitalized asset sharing solutions
Companies can use online platforms to share mobility services, such as car and truck pooling, and integrate distribution networks across different modes of transport to enable shared delivery services. This improves vehicle use, reduces the number of vehicles on the road and reduces the carbon intensity of passenger or freight transport. WBCSD's Road Freight Lab initiative has found that asset sharing could result in reductions of 7-70% of GHG emissions, depending on the degree to which operations are jointly optimized, the number of independent operators involved in an alliance, and the geographic context.
The benefits of collaborating to source low-carbon energy for transport

Improved access to low-carbon transport
Sharing transport assets allows companies to adopt low-carbon technologies that they may not be able to afford or maintain on their own.
Collaborations between companies and local governments/authorities will lead to more integrated planning and provide confidence to scale up investments in charging and refueling infrastructure. This is particularly important in areas where additional power demand from fleets will exceed capacity limitations on local grids.
Aggregating demand by collaborating with value chain partners can help to accelerate innovation and the production of key fuels and technologies like sustainable fuels, charging infrastructure, fuel cells and electric vehicles, which companies will ultimately benefit from.
Reduced risks
The implementation of shared user models (e.g. EV roaming) can open new revenue sources and improve the business case for upfront investments in associated infrastructure.
Collaboration with others usually leads to more holistic information and hence lowers the risk for early adopters of being locked into transport infrastructure or fuel sources that the industry has not adopted in mass.
Greater transparency and reporting
Collaborating with other companies to demand greater transparency on the carbon emissions of transport providers will drive standardization in reporting.
Greater transparency will also improve a company's understanding of the climate impact of its own transportation activities and the activities of its supply chain, enabling more informed choices for transportation options and fuel sources.