GUIDELINES FOR AN INTEGRATED ENERGY STRATEGY
Helping companies achieve their sustainable energy objectives
An integrated approach to decarbonizing energy sourcing
WBCSD's
Guidelines for an Integrated Energy Strategy
explain the six key elements a company's energy strategy should contain – including the measures companies implement, typically comprising energy-efficiency improvements and increases in low-carbon energy use.
Companies should reduce their energy consumption through efficiency measures as these often provide the highest return and biggest impact. WBCSD's guidance on an integrated approach to energy and fuel efficiency explains how your company can work collaboratively with its value chains and across functions to drive energy-efficiency improvements.
This section provides guidance on sourcing low carbon energy for all end-uses: electricity, heating and cooling – within buildings and industrial processes – and transporting people and goods.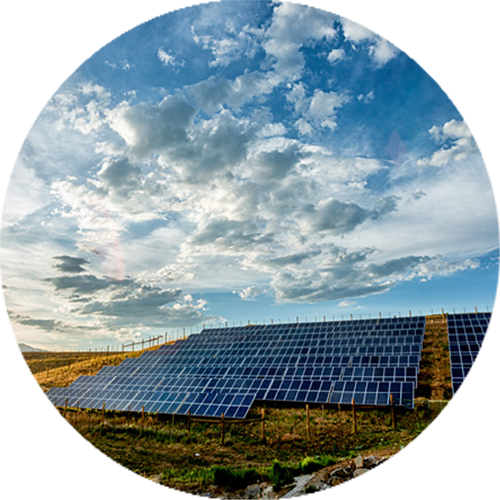 Rather than looking at energy sourcing with a short-term perspective and as a standard operational expense, an integrated energy strategy defines how a company will strategically source and manage its energy use.
A successful approach involves internal stakeholders from all relevant functions and builds long-term collaborations with suppliers and customers.
Working across a company's energy-related value chain and intensifying or building new collaborations will help to share resources and expertise, drive innovation, attract new sources of investment and increase the value of low-carbon products and services.
Companies taking an integrated approach will identify new solutions to decarbonize their energy consumption and accelerate the deployment of these solutions to the scale required to achieve their climate and energy goals. In addition, companies working with their suppliers and customers to source and use energy sustainably will reduce their Scope 3 emissions within their value chain and mitigate other negative impacts, such as air pollution.
This section explains how your company can work cross-functionally and collaboratively with your energy-related value chains to source sustainable energy for electricity, heating, cooling and transportation.
It explains innovative ways to collaborate on energy sourcing – within your company, with local stakeholders and with your customers and supplier –, outlines typical challenges that your company may encounter and how to choose the most appropriate partners to collaborate with.
This guidance provides an overview of sustainable energy sourcing solutions, a representative set of collaboration examples for each type of energy use and articulates the associated benefits – from optimizing resource use and reducing risk, to improving access to finance and accelerating innovation.
A detailed description of the different low-carbon energy technology and fuel solutions available today are beyond the scope of this guidance, but further information can be found here . While this guidance does not cover process emissions, it does include emissions from energy used in industrial processes.
What is an integrated approach?
A company can adopt an integrated approach to sourcing energy by:
Considering current and future demand for electricity, heating, cooling and transport collectively across all assets and geographies to develop a strategy that is future-proof.
Involving all relevant internal functions within a company to develop its energy strategy, including executive management, corporate strategy, risk management, finance, procurement/strategic sourcing, sustainability, supply chain/logistics and manufacturing/engineering.
Collaborating with external stakeholders, across the supply chain, customers and local end-users.
The figure below explains the main ways in which a company can collaborate with others to take an integrated approach to energy sourcing.
Cross-functional, with different functions and teams within a company
Consideration of low-carbon options when making decisions on capital investments for new assets and infrastructure
Planning for future demand changes (e.g. increased electricity needs due to the transition to an electric vehicle (EV) fleet) or future energy source changes (e.g. introduction of green hydrogen)
Consideration of third-party financing to accelerate implementation of energy solutions without the need for upfront capital
With local end users and communities, including from the supply chain and customers
Use of waste streams, by-products and excess heating or cooling
Consideration of joint power purchase agreements (PPAs), community sharing schemes for renewable energy, as well as heating, cooling and carbon capture and use/storage networks to enable economies of scale, risk sharing, increased system efficiencies and innovation
Across the supply chain and with customers
Development of collaboration platforms for knowledge sharing, e.g. for multi-buyer PPAs
Facilitation of third-party financing for stakeholders with inadequate access to capital
Encouragement of emissions reporting, to enable CO2 content to become a decision criterion whenever your company or your down and upstream stakeholders purchase goods and services
Product innovation and development with suppliers and customers, so that companies optimize energy-consuming products and services for the use of low-carbon energy sources.
Challenges with an integrated approach
While collaboration with external organizations and stakeholders, such as suppliers and customers, can accelerate the transition to low-carbon energy sources, it also brings its own set of challenges.
Operational and administrative challenges

Cultural challenges

Commercial and financial challenges
As more parties come together, effective collaboration can become more challenging due to the additional risks that require managing. This can happen during the development of consortium PPAs or during the use of third-party financing solutions to fund investments in low-carbon energy solutions. Administrative or legal complexities can also pose barriers, as collaboration may require the signing of contracts like non-disclosure agreements or memoranda of understanding.
It may be difficult to integrate teams with contrasting cultures and working styles as collaboration requires adopting new viewpoints and incorporating new, potentially unfamiliar, elements in the decision-making process. Cultural challenges can also arise when different functions are integrating sourcing requirements for the first time or when companies are collaborating with external stakeholders on solutions that are innovative or deviate from business as usual.
Collaboration between companies can involve commercial barriers, such as companies incurring higher costs for bespoke solutions or competition issues that prevent partnerships from forming. For instance, a company collaborating with selected customers to develop a new low-carbon product may find it difficult to demonstrate a profitable business case if it has tailored the product to the requirements of a small share of the market.

Successful collaborations between companies requires strong alignment of interests, a shared understanding of the desired outcomes and the ability to find equal benefits. Examples of how collaborations between different companies can work and their potential benefits a
Choosing suitable partners and maximizing benefits from collaboration
Generating maximum value from integrated approaches requires companies to form true partnerships, overcoming cultural, operational and commercial challenges. It often involves willingness to share information, listen to partners, invest in common capabilities and deviate from business as usual.
Recommendations for selecting a suitable partner and collaborating effectively are:
Assessing cost, carbon and other environmental impacts across the whole product/service life cycle will help to identify suitable partners and potential synergies that deliver the greatest cost and environmental impact reductions.
Partnering with organizations whose corporate goals align and whose geographical footprints overlap will aid scalability and the commercial viability of solutions.
Collaborating with local partners, and those already using similar technology partners, will improve the ease and speed with which solutions can be designed and implemented.
Collaborating with stakeholders that are truly open to transforming existing or developing new business models will enable the joint development of products and services and potential new financing routes.
Collaborating yields better results when all parties focus on outcomes as opposed to conformity with a specific method or business model, thus inviting more creativity on potential low-carbon energy solutions from stakeholders.
After selecting the most appropriate energy solutions and suitable partners to collaborate with, companies usually test selected solutions to evaluate them and demonstrate the business case. Companies can scale successful solutions that meet all their criteria to enlarge impact.