GUIDELINES FOR AN INTEGRATED ENERGY STRATEGY
Helping companies achieve their sustainable energy objectives
An integrated approach to sourcing low-cabon energy and fuel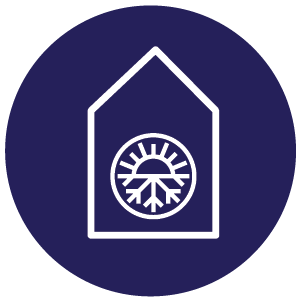 Heating cooling in buildings
Companies occupying buildings can work with their energy-related value chain partners to source space and water heating and cooling solutions via low-carbon technologies and fuels.
Companies typically consider the following options to decarbonize heating and cooling in buildings:
Transitioning to electric heating sourced from renewable electricity;
Using heat pump technology, powered by renewable electricity;
Transitioning to renewable or low-carbon heating sources such as solar thermal heat and sustainable bioenergy;
Using renewable electricity to power air conditioning units or transitioning to solar thermal cooling.
The best technology largely depends on the properties of the building in question and the local environment. Important factors include how energy efficient and how well insulated buildings are, whether they are on a gas grid or a heat network, and the potential for electric or bioenergy heating to be a cost-effective and low-carbon solution considering local market and climate. The choice of technology will also depend on whether the company is installing the technology in a new building, as part of a major building retrofit, or to replace existing end-of-life equipment. Local energy market regulations, resource availability and building/environmental standards will limit or increase the available options and their economic viability.
The extent to which companies can easily implement low-carbon heating and cooling solutions will depend on whether a company owns the building or is a tenant. Companies that are tenants can face barriers to implementing low-carbon heating and cooling solutions due to the problem of split incentives, which arises when the benefits of the new heating and/or cooling solutions do not go to the party making the investment. To overcome this barrier, companies can consider renegotiating leases so that they share the costs and benefits of low-carbon technologies with the landlord. Energy service company (ESCO) business models can also help to overcome financial barriers because ESCOs use future operational cost savings to finance the initial capital investments.
While outside this guide's core scope, companies using heating and/or cooling solutions that require refrigerants should also assess the impact of the refrigerant. Air conditioning and heat pumps often use fluorinated greenhouse gases (F-gases) as the refrigerant, most of which are highly potent greenhouse gases. Solutions that use natural refrigerants, such as water, air or carbon dioxide, can lower emissions significantly.
Examples of how a company can take an integrated approach to sourcing low-carbon heating and cooling solutions in buildings

Entering a partnership to procure low-carbon heating and/or cooling as a service
Working with an ESCO or a technology supplier on a fully financed solution to roll out low-carbon heating and cooling removes capital expenditure related barriers, as all upfront costs are borne by a third party.
Collaborating with landlords and co-tenants to install low-carbon heating and cooling solutions
Co-investing in low-carbon heating, ventilation and air conditioning solutions provides benefits to all parties, reducing carbon emissions for tenants and future-proofing the building for its owner.
Collaborating with neighbors and local authorities to develop low-carbon heating and cooling networks
In areas of high heat demand or heat supply, heat networks can be an effective way of delivering heat with low GHG emissions throughout a district by combining technologies (such as heat pumps and biomass-fired boilers), using waste heat and maximizing system efficiency.
The benefits of collaborating to source low-carbon heating and cooling solutions in buildings
Optimized resource use
Collaboration with suppliers and customers, particularly those locally based, provides opportunity to use waste outputs to produce sustainable fuels for heating.
Integrating heating and/or cooling systems through a network combines and flattens load profiles, allowing for comfort conditions to be met in a cost-effective and low-carbon manner.
Providing heating and cooling as a service incentives system designers, installers and operators to optimize controls and energy efficiency. Similarly, temperature-as-a-service models where tenants benefit from a constant temperature and air quality provide incentives for overall system efficiency.
Improved access to finance
Investment costs for low-carbon heating and cooling technologies, such as heat pumps, are typically higher than for traditional equipment like gas-fired boilers. Co-investing in scaled-up projects can create economies of scale and improve the business case. Joint off-take commitments (akin to PPAs) can also de-risk the project and lower the cost of capital.
Accelerated technology deployment
Working with suppliers and customers to test and deploy low-carbon energy solutions for heating and cooling can lead to technology standardization. This accelerates progress by growing a more resilient supply chain and expanding the pool of skilled and experienced resources.
Deploying low-carbon heating and cooling networks often requires substantial structural work and physical changes to buildings. Working collaboratively to scale up projects with neighboring buildings can facilitate the process of obtaining approvals, as those most impacted by the building works share the benefits.
Developing low-carbon heating and/or cooling networks typically requires street and/or road works. The network installation phase can also be an opportunity for other developments, such as installing EV charging stations or wiring fiber-optic broadband.